Thu 4 Dec 2008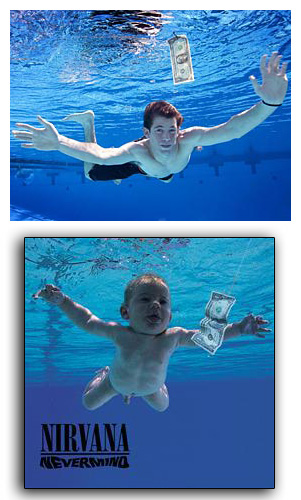 Spencer Elden, the baby from the cover of Nirvana's "Nevermind," recently became an intern for Obey Giant, the company created by Shepard Faiery, the artist responsible for those cool Obama graphics.
http://obeygiant.com/headlines/welcome-spencer-elden
MTV News had a write-up about Mr. Elden:
Now, 17-year-old Elden is a high school student, who told MTV News last year that "it's kind of creepy [to think] that that many people have seen me naked – I feel like I'm the world's biggest porn star."
http://www.mtv.com/news/articles/1598985/20081110/nirvana.jhtml
Speaking of Shepard Faiery & Obey Giant, there's an art exhibit of his work in Washington D.C. that's ending soon.
You can also get a free Shepard Faiery sticker from MoveOn.
UPDATE: Nerve.com recently posted an article entitled "The 40 Greatest Lost Icons in Pop Culture History," featuring Spencer Elden, and various other individuals that might have otherwise gone unnoticed.