Wed 18 Apr 2012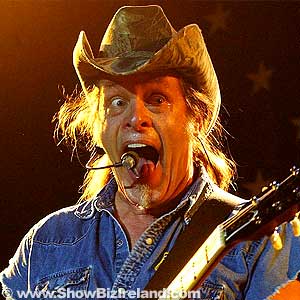 Ted Nugent is back in the news again. He's making all sort of insane threats towards elected representatives of the government, encouraging his supporters to "ride into that battlefield and chop their heads off in November."
Ted Nugent thinks that President Obama is going to take away his gun rights and throw him in jail, despite the fact that President Obama has done NOTHING to take away gun rights.
Perhaps Nugent and his supporters are thinking that President Obama might support the Brady Campaign effort to prohibit gun sales to convicted felons, convicted domestic abusers, terrorists and people found to be dangerously mentally ill??
I suppose that last part might give Nugent a legitimate reason to be nervous.